20/10 (Tuesday)
8pm
Dom Pedro V Theatre
Ticket: MOP 200, 150, 100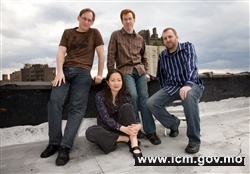 Flexible Music:
Haruka Fuji, Percussion
Eric Huebner, Piano
Timothy Ruedeman, Saxophone
Daniel Lippel, Guitar
Ensemble Link Together:
Wu Wei, Sheng, Bass, Erhu, Bawu and Voice
Matthias Schubert, Saxophone
Ulrich Moritz, Drums and Percussion
Programme:
John Psathas (b. 1966): Mal Occhio
Nico Muhly (b. 1981): Flexible Music
Mikel Kuehn (b. 1967): Color Field
Carl Schimmel (b. 1975): The Comical Hotch-Potch/ The Alphabet turn'd Posture Master
Louis Andriessen (b. 1939): Hout
Nie Er: Dragon Dance
Ulrich Moritz and Wu Wei: Silk Road
Hakim Ludin: Blue Desert
Arr. Ensemble Link Together: Traditional Dance of the Yao
Ulrich Moritz and Wu Wei: Calling the Phoenix / The Great Wall

With an instrumentation that blurs the line between jazz, rock and classical music, Flexible Music is composed of four of New York's most active young new music performers on their respective instruments; they have all been heard as soloists and chamber musicians in the United States and internationally. Since 2003, the group has commissioned nearly 30 pieces including new works by Nico Muhly, Orianna Webb, Vineet Shende, John Link, and Adam B. Silverman, amongst others. The Berlin-based contemporary jazz ensemble "Link Together" works on the synthesis of non-European rhythms, traditional Chinese music, jazz-influenced and free improvisation and contemporary sounds and structures. Through improvised folk music and humorous avant-garde music – the jazz of an imaginary Big Beautiful World – the musicians convey their thoughts, tendencies and emotions and test their listeners in the most sensitive way.
"This was my first encounter with Flexible Music, but it certainly won't be my last. Each player was estimable in his or her own right; together, they provided a broad canvas upon which tonight's composers could unfurl their imaginations."
Steve Smith
Duration: approximately 1 hour and 35 minutes, including one interval