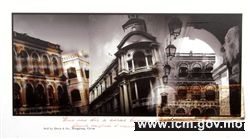 The 6th Macao Annual Art Exhibition, which aims at stimulating local artistic creativity, will have a special opening ceremony on March 24 (Friday) at the Fortress Corridor at 6:30pm. During the ceremony, "Top Ten Entries" will be announced and certificates will be awarded to the artists.
The 2006 Macao Annual Art Exhibition is a big event in the 17th Macao Arts Festival. With "Embracing Life and Exhibiting the Contemporary" as the theme, the exhibition aims to stimulate artistic creativity and seek out new talents. By adopting a thematic approach, it invited works of different media to reflect the spirit of time, enhance Macao residents' love for their city and to enrich the city's art world. The Macao Annual Art Exhibition has become an important platform for fostering Macao's visual art creations and in training local art talents.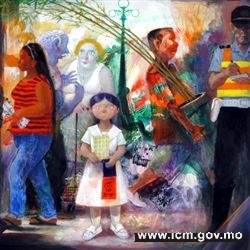 The regulations for the 2006 Macao Annual Art Exhibition have gone through a series of discussions and revisions and the collection for entries was completed last year. The selection panel consisted of experts from different fields of visual art, including Mr. Van Lau, Chairman of the Hong Kong Artists Association, Professor Zhang Zhi An of the Guangzhou Academy of Fine Arts, Mr. Ruan Yizhong, associate professor at Taipei National University of the Arts, Mr. Balbir Bodh, Head of Department of Visual Arts at Pathways World School and Professor Wang Dongling of the Department of Calligraphy in China Academy of Art.
Out of 350 works from 165 artists, 125 are selected for exhibition, which include 22 ink wash paintings, 28 calligraphies, 32 paintings, 24 photographs, 9 sculptures, 7 posters, 1 installation and 2 videos. The panel has also chosen 10 of the selected works to be this year's "Top Ten Entries".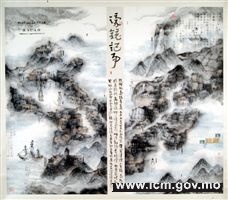 Other than providing a platform for the artists to display their works, the exhibition serves as a classroom for art education. Art education corners will be located in the two exhibition halls. Moreover, guiding services will be provided to primary and secondary schools, universities, organizations, associations and to the public, so that visitors will learn, with the assistance of explanations, to understand and enjoy the works from different angles. Vivid and interactive visual installations will also enhance people's thoughtfulness and appreciation towards different art styles.
The 125 selected works will be on display from March 25 to June 28 at the Tap Seac Gallery and at the Fortress Corridor. All are welcome to attend the opening ceremony.